Music
Babe Pino Band – Live at Cafe 20 (recorded mid 1970's)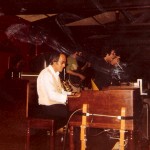 The recording of "The Babe Pino Band" was recorded live at the Cafe 20 in Worcester MA sometime in the mid 1970's. The players on this fantastic performance are Babe Pino on harmonica and vocals, Kenny Pino on guitar, Dave Agerholm on drums, Pastor Cales on conga & timbales, Wolf Ginandes on bass guitar and Al Arsenault on the Hammond M3 organ.
Babe Pino Band – Live at Cafe 20 (MP3 Zip)

"What was cool about Al's set-up was he used 2 Leslie cabinets – one raised up on cinder blocks on each side of the stage. Being the drummer, I was set up center stage and I'll always remember what it felt like sitting in the middle of those two things spinning when Al was blowing organ. Unreal. Some of the baddest organ playing you'll ever hear" — Dave Agerholm
A Hat Full of Blues
As of 2007, after thousands of performances and over 5 decades of music, Al officially retired from playing live due to health complications. "A Hat Full of Blues" was recorded one Sunday afternoon in January of 2006, live in the studio at Tremolo Lounge. The album features Al Arsenault on organ. The band for the session was Steve Mossberg on electric piano and clav, Roger Lavallee on guitar, Craig Rawding on vocals and harmonica, Ron Mominee on bass and Duncan Arsenault on drums. Dawn Sweet sings on "In the Basement" and Charlene Arsenault sits in on electric piano on that song as well as a couple others.
A Hat Full Of Blues (MP3 Zip)