by: Brian Goslow
Long before pianist/guitarist Al Arsenault became a fixture on the local blues scene, he was a teenage rocker who played with The Phaetons, one of the most storied acts to come out of the region.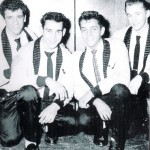 Norton Records, who reissued their 45, had this to say: "Over the years they've caught much lip service as one of the Crescent City's coolest white-boy combos. The truth be known, these cats let mosta [sic] their good times roll within the city limits of their hometown of Worcester, Mass."
Singer Jimmy Clanton helped get them signed after The Phaetons opened for him at White City in 1957. He was so impressed that he offered to pitch their demo to Ace records. Ace issued Frankie Ford's "Sea Cruise'"alongside The Phaetons' 45 and the label went full-tilt behind the rockin' hit and "I Love My Baby" died on the vine. Still, the combo's affiliation to a big-shot waxery helped The Phaetons maintain strong local status into the early '60s.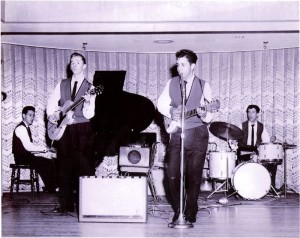 They were already playing when I joined. We never had a bass player. We had two guitars, piano and drums. It was a unique sound, totally different. The singer lived on Shrewsbury Street, Bernie Mangini. The guitar player is still around; his name is George Ede. The drummer died a few years ago, Dave Mulhammond, a Turkish kid. I was added to the band as the piano player. I was about 18 years old.
Bernie found the name. It was an old-car style, the phaeton. One year we won the Battle of the Bands at the Armory. We used to wear these sequin jackets. We played in Boston, all over the place. It was just a good rock 'n' roll band. We did Elvis Presley stuff. Jerry Lee Lewis. Stuff that had just come out. We played at Bronzo's, the Valhalla. There was an American Legion Club on Main Street. In those days they ran dances.
We backed up all the names in White City Park outdoors, in summer. We opened for Jimmy Clanton, Jack Scott, Bobby Darin and Ray Peterson.
The record was recorded in Woburn. I can remember the night we went down there. We did two songs, "I Love My Baby" and "As You Know." We never knew it was on a compilation CD on Norton records. My wife was on the Internet going through things and found it.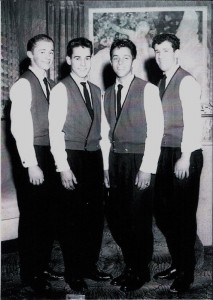 We had the No. 1 hit in New England at the time. That's when Fabian came out. He had a strong Worcester following. We used to pack them in, every place we played. We had a shot to go on the Dick Clark Show, but the band broke up.
I left the band and they broke up right after me. I got married. That's why I left the band. My wife at the time didn't want me to play. Like a jerk, I listened to her. Six months later, I said, 'I'm going back to playing,' but the band broke up. We recorded those two songs and that was it.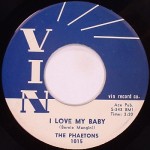 Arsenault is still musically active. Catch him every other Friday at Café Amore on Shrewsbury Street and Saturdays at Christo's, 97 Stafford Street. He also plays a Sunday brunch at the Southbridge Hotel and Conference Center.